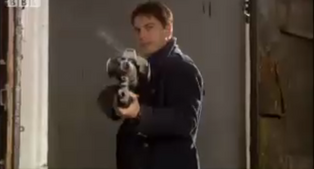 The
Torchwood build-up Gun
was a weapon which was kept in the boot of the
Torchwood S.U.V
. It came in several parts stored inside individual boxes; these parts needed to be put together before use, hence the weapon's name. It possessed great firepower, enough to destroy an entire humanoid body in one shot.
Jack Harkness shot a Nostrovite with it at Gwen Cooper's wedding. (TV: Something Borrowed)
Ad blocker interference detected!
Wikia is a free-to-use site that makes money from advertising. We have a modified experience for viewers using ad blockers

Wikia is not accessible if you've made further modifications. Remove the custom ad blocker rule(s) and the page will load as expected.